Porcelain Veneers – Phoenix, AZ
Comprehensive Results in Just Two Appointments
Do you ever wonder what your life would be like if you had a perfect smile like all the movie stars? The truth is that many celebrities enhance their smiles with a treatment known as veneers. These customized porcelain restorations are placed over the front surfaces of your teeth. You can think of them like tiny "masks" for your problem teeth, giving them the appearance of being naturally and effortlessly flawless. To learn more about porcelain veneers in Phoenix, AZ, give us a call today!
Why Choose Bell Road Dental Care of Phoenix for Porcelain Veneers?
Privately Owned Dental Office Trusted by Phoenix Families
Partnered with a Reliable Dental Laboratory
Experienced Dentist Using the Latest Technology
Am I a Good Candidate for Porcelain Veneers?
Generally, if you are displeased with some aspect of the smile you see in the mirror, you might be a good candidate for veneers. Some of the imperfections that veneers can correct include:
Stubborn stains
Chips and cracks
Minor gaps
Slightly crooked or rotated teeth
Stubby, worn-down, or misshapen teeth
Because veneers are often a purely cosmetic treatment, your front teeth must be free of infection and structural problems before we can place them. This means if you have any cavities, deep fractures, or gum disease, we must address those issues prior to undergoing the veneers procedure.
How Does the Procedure Work?
Not counting your initial consultation with your cosmetic dentist in Phoenix, veneers generally take two appointments to place. During the first of these visits, one of our dentists will prepare your affected teeth by shaving off a super-thin layer of enamel. Don't worry; this sliver is only about as thick as a contact lens. Once your teeth have been sufficiently prepped, we'll take impressions of them and send them off to a trusted dental lab. A skilled ceramist will get to work on crafting your veneers to our exact specifications.
In the meantime, we'll protect your teeth by placing temporary veneers. They also allow you to essentially take your new and improved smile for a test drive. After a few weeks, when your permanent veneers are ready, we'll take off your temporaries and permanently bond your new veneers into place. You can then show off your brand-new smile to the world for years to come!
What Are the Benefits of Porcelain Veneers?
Some of the advantages of veneers include:
Compared to dental crowns, veneers are a more conservative treatment since they require significantly less enamel removal.
Gum tissue is able to tolerate dental porcelain quite well.
Each veneer is customized to blend in with the rest of your smile.
Veneers can correct multiple smile imperfections in just one treatment.
Because porcelain isn't as porous as enamel, your veneers will be more resistant to staining than your natural teeth.
If you take proper care of your veneers with regular brushing, flossing, and checkups, they can last upwards of 15 years.
Understanding the Cost of Veneers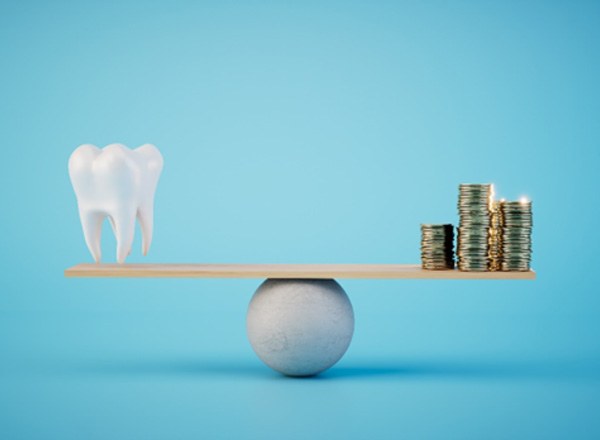 Even if you want veneers, you may worry about their price. Perhaps you think they'd be too expensive for your budget. In reality, though, the cost of veneers varies by patient. You'll need to consult our dentists for an exact estimate. Once you have, our team will find ways to make care affordable. In particular, we'll show you our other cosmetic procedures and helpful payment options. Keep reading to learn more, or contact our office for details.
Cost vs. Cosmetic Dentistry: What's Right for Me?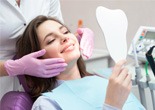 Our practice truly does offer top-quality veneers. That said, it's still a good idea to consider our other cosmetic services. Differing aesthetic procedures have distinct effects and prices. As such, looking them over will ensure cost-effective care.
So, then, weigh the options listed below:
Teeth Whitening – This treatment (per its name) brightens your smile. To do so, it uses bleaching gel to remove stains from your enamel. The result is often a grin six to eight shades whiter. However, the procedure is moderately priced and only affects tooth color.
All-Ceramic Restorations – With our office's ceramic crowns and fillings, you can protect your teeth and hide their flaws. As such, they're ideal for treating cavities, decay, and other tooth damage. Still, these restorations' features can make them pricey.
Porcelain Veneers – Put simply, veneers are thin shells placed on the fronts of teeth. They aim to hide smile flaws like chips, cracks, stains, and more. Thanks to using porcelain, they blend seamlessly with adjacent teeth. In exchange, though, veneers are often costly.
Smile Makeover – A smile makeover isn't a distinct dental treatment. Rather, it's two or more cosmetic procedures performed in a single visit. That means the makeover is the priciest form of cosmetic dentistry.
How to Make Veneers Affordable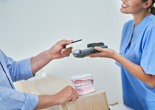 Sadly, dental insurance won't cover veneers. Most plans see the shells as an unnecessary luxury. There are, though, some occasional exceptions; a policy may cover veneers if they protect a damaged area. Therefore, confirm your benefits before getting care. If you'd like, our team can help you do so.
Fortunately, there are other ways to make veneers affordable. The most notable of these are a dental practice's payment options. If you find a good one, your veneers could be very budget-friendly.
Consider Bell Road Dental Care of Phoenix, for example. We happen to offer:
In-House Savings Plans – By paying an annual fee, you can get 20% off all our dental procedures. That discount also applies to porcelain veneers!
Flexible Financing – Our office works with CareCredit and Cherry, which are reputable third-party financiers. Through them, you could pay for veneers with monthly, low-interest installments. That means you could gradually cover the cost.
Ultimately, we're eager to make your veneers pretty and affordable. That being the case, please visit us soon for a consultation!
Porcelain Veneers Frequently Asked Questions
Are you still curious about porcelain veneers in Phoenix? If so, you're in the right place! While our front desk staff is always ready to help in any way possible, we also want to make the information you need easy to access. That's why we've included the answers to some of the most frequently asked questions about porcelain veneers in Phoenix. Read on to satisfy your curiosity and learn more about veneers.
How long do porcelain veneers Last?
One of the benefits of porcelain veneers is that they can last for up to 15 years with proper care. To get the most out of your veneers, be sure to visit our dental office for routine checkups and cleanings. You should also maintain brushing and flossing—brush twice a day and floss once a day to keep your smile free of plaque and bacteria. Additionally, if you play sports, or grind your teeth, wear a mouthguard/nightguard to protect your new smile.
Are porcelain veneers worth the investment?
Porcelain veneers tend to come with a higher price tag compared to other cosmetic dentistry options, so what makes them worth their cost? For starters, the treatment is completely personalized, allowing you to choose the size, shape, and shade of your new smile, providing you with the appearance of your dreams. Additionally, dental porcelain is relatively stain-proof, making it more difficult to discolor your teeth. However, you simply can't put a price on the boost in confidence that veneers will provide you—smile in front of friends and family once more!
Are porcelain veneers reversible?
Because porcelain veneers require the preparation of your teeth before placement, they are not reversible. Enamel doesn't grow back, so once our dentists remove a slight portion to accommodate your veneers, you must stay with the solution you chose. Thankfully, veneers are incredibly durable, beautiful, and easy to speak with, so patients are always satisfied with their treatment.
Does the porcelain veneers process hurt?
You may hear that we must remove part of your tooth enamel and assume that it's a painful process. However, we ensure that you're numb and comfortable before beginning. We will usually only require 2 appointments for preparation and placement, where we will keep you happy and relaxed. There may be some slight sensitivity during the first few days after treatment, but this will quickly go away!
Can I get a single tooth veneered?
One of the best parts of the porcelain veneers treatment is that we can use them for one tooth or an entire smile—it all depends on your needs. For a single tooth, we match the color, size, and shape of your veneer with the rest of your smile. That way, the veneer we place seamlessly blends in with the rest of your teeth for a cohesive grin. This option is popular for patients with just one slightly crooked, gapped, or misshapen tooth.
If you have any other questions or want to schedule an appointment, please don't hesitate to contact our dental office to speak with one of our friendly staff members.
Is There Anyone Who Shouldn't Get Veneers?
At your initial consultation, we will first learn all about your current aesthetic concerns as well as your smile goals. Then, we will take X-rays and examine your teeth and gums to ensure your oral health is in good shape. If it isn't, then you won't be a candidate for veneers right away. Don't worry – we can start your treatment plan with the necessary restorative care to ensure that your smile goals aren't out of reach for long.
How Can I Reduce the Cost of Veneers?
Since the upfront cost of veneers is higher compared to other treatments, many of our patients are interested in learning more about the financial solutions we offer. We're here to help! First, we offer periodic special offers, which can help you save on everything from preventive dentistry to emergency treatments. We also are happy to welcome flexible financing, which allows you to space out the cost of your care instead of paying for it all in one lump sum. If you have a question about either of these options (or you simply want to learn more details), don't hesitate to get in touch with us.
Will I Still Be Able to Drink Coffee with Veneers?
Not only can you drink coffee with veneers, but you can drink coffee without worry because porcelain is stain-resistant! As your dental team, we still recommend enjoying this caffeinated beverage the "smile friendly" way, which starts with using a straw and extends to brushing your teeth 20 minutes after you're done. This will help keep your smile bright and your teeth decay-free.
Is There Anything I Can't Eat with Veneers?
Veneers are incredibly durable, so you won't have to stick to soft foods after your temporary ones are removed. With that said, both your teeth and your veneers aren't completely indestructible, which is why we always recommend exercising caution with extremely hard and crunchy foods. It's also important to keep your consumption of added sugar to a minimum. Remember: even though your veneers are covering a portion of your teeth, it's still possible for them to decay if you don't care for them properly.
How Many Veneers Will I Need?
This is a very important question, and one that we will answer once we've learned all about your smile goals! If you are unhappy with your smile because one tooth has a noticeable chip or is severely discolored, then you may only need one veneer. However, many of our patients in Phoenix want to completely transform their smiles, which may require six or more.
Can You Whiten Veneers?
No, you cannot whiten your veneers with over-the-counter or professional whitening products (porcelain doesn't respond to the brightening agents). You can, however, replace them with a lighter color that suits your aesthetic goals. As always, you're welcome to bring any concerns or questions to our Phoenix cosmetic dentist so they can help you determine the best way to make your dream smile a reality.