Dental Crowns & Bridges – Phoenix, AZ
Effective Restorations Designed to Repair & Improve Smiles
At Bell Road Dental Care of Phoenix, our team of experts knows how serious it can be to have decayed, damaged, or missing teeth. When faced with the realization that areas of your smile are weak or incomplete, you begin to wonder what you can do to improve your appearance and ensure its health and longevity. With the help of a trusted dentist in Phoenix, you can find the right solution whether it be a dental crown or bridge. Using high-quality materials designed specifically to match your natural, healthy teeth, these tried-and-true restorations can help you embrace a better quality of life. Contact us today to schedule an appointment to find out how we can help you achieve the smile you deserve with dental crowns and bridges in Phoenix, AZ.
Why Choose Bell Road Dental Care of Phoenix for Dental Crowns & Bridges?
Same Day Crowns with Advanced CEREC System
Known for Outstanding Customer Service
State of the Art Dental Office
What Are Dental Crowns?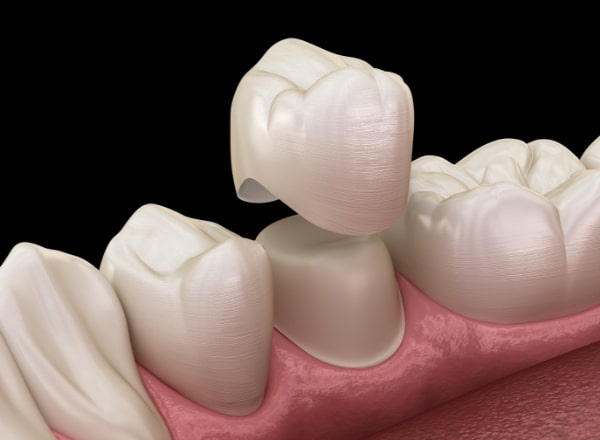 A dental crown is also referred to as a "cap," which is designed to fit comfortably (and snugly) over a tooth that is plagued by decay or damage. Oftentimes, when a cavity spreads beyond the initial enamel layer, the only way to treat the problem is with a dental crown. But decay isn't the only reason these faithful restorations are needed. Patients who suffer from teeth that are broken or chipped, stained or discolored, or even misshapen can achieve a restored smile with the help of dental crowns.
They're also vital components to a person who recently underwent a root canal or dental implant placement.
Dental crowns can be crafted using a variety of materials, but many dentists are moving away from traditional amalgam and instead, opting for more natural, lifelike solutions like ceramic or porcelain. These materials blend in with healthy remaining teeth much easier.
What Are Dental Bridges?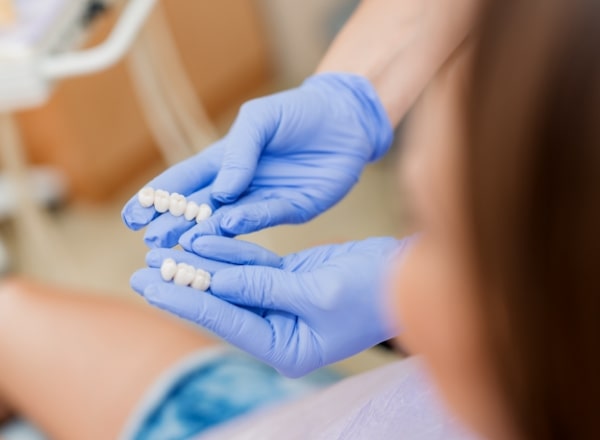 A dental bridge allows patients with one or more missing teeth to enjoy a complete smile once again. Missing teeth are known for causing many problems, especially as it pertains to eating and speaking. Not to mention, the potential shifting of natural teeth as well as weakening of the jawbone over time. Having a dental bridge created and secured into place is a positive and beneficial way to improve the aesthetics and overall health of an individual's smile.
Dental bridges use healthy adjacent teeth as anchors. These teeth must be prepped to ensure a proper fit when the bridge is put into place. Lab technicians will fuse multiple dental crowns to create what looks to be a bridge. When ready for placement, the outer crowns fit over the adjacent, anchoring teeth while the interior crowns rest on top of the gums. Of course, if a patient prefers a more stable solution, an implant bridge can be created and attached to two or more implants, which are surgically placed into the jawbone.
What Are the Benefits of Dental Crowns and Bridges?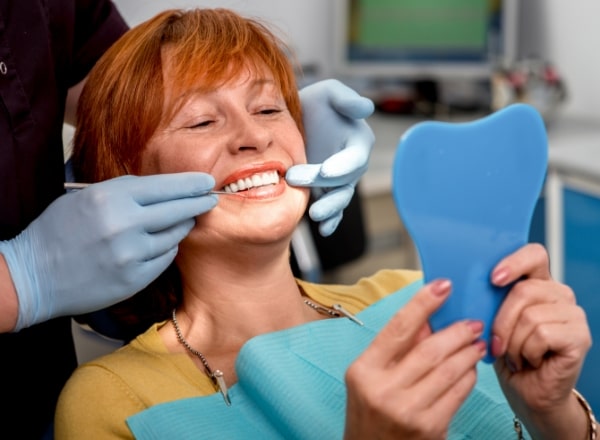 When it comes to treating your smile with crowns and bridges in Phoenix, you simply cannot go wrong. These time-tested restorations have been around for decades or longer, helping patients achieve greater, more complete, and fully functional smiles. While it is possible to opt for dental implants to replace one or more missing teeth or tooth extraction to remove a severely damaged or decayed tooth, it is the goal of our team to help you keep your natural teeth as long as possible. It is also our responsibility to provide less invasive treatments should you prefer to forgo surgery.
By choosing crowns and bridges, you will experience many great benefits, some of which include:
Greater oral health because your weakened tooth will be protected against reinfection and future possible damage. Not to mention, by replacing your missing tooth with a dental bridge, you will also reduce the risk for potential orthodontic issues by curbing the problem of your natural teeth beginning to shift out of place.
Reliable solutions that are covered by insurance. Dental implants are often not covered by most dental insurance companies; however, crowns and bridges are. If money is a concern, you can rest easier knowing you'll pay less out of pocket for a more traditional restorative solution.
Restorations that restore your smile in 2-3 visits. Unlike more invasive procedures that can take months or an entire year to complete, crowns and bridges only require 2-3 dental visits to achieve the smile you deserve.
High-quality materials that can last. Yes, restorations must indeed be replaced over the years, but with proper care and maintenance, your crowns and bridges can last a decade or longer before necessary replacement.