Dental Implants – Phoenix, AZ
Repairing Damaged Smiles to Flawless Function
If you need to replace one or more teeth, Bell Road Dental Care of Phoenix has a great solution. With dental implants, you can have a fully restored smile that looks beautiful and functions just like your natural smile. Dental implants in our Phoenix, AZ dental office are versatile enough to be used by patients who need to replace a single tooth, patients who need to replace a few teeth, and even those who need to replace a full row of teeth.
Why Choose Bell Road Dental Care of Phoenix for Dental Implants?
Known for Providing Outstanding Customer Service
Trained to Place and Restore Dental Implants In-House
Advanced Technology for Planning Implant Surgery
Are Dental Implants Right for Me?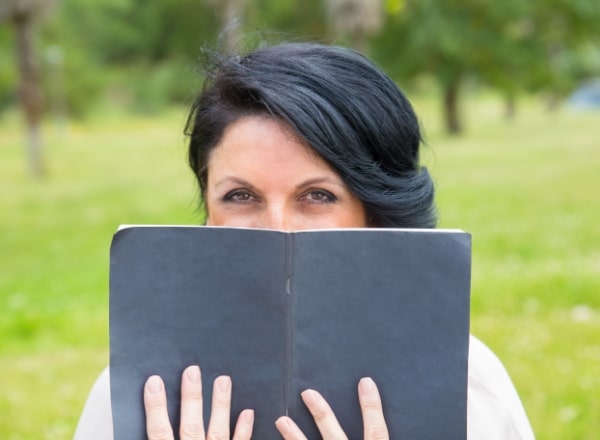 Are you unhappy with your current denture, or have you recently lost one of your teeth due to an accident or poor oral health? Dr. Sewright would be happy to assess your needs and help you determine the treatment option that's right for you. Contact our Phoenix dental office today to reserve your visit. With a visual exam and X-rays, we gain a full understanding of your situation and propose a personalized plan to reclaim your good oral health and wellbeing.
Benefits of Dental Implants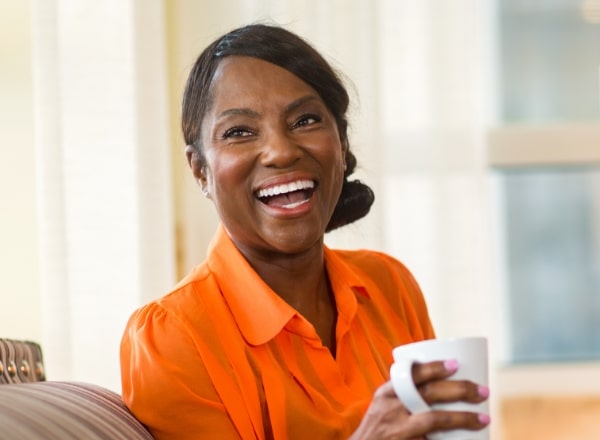 We know that replacing one or more missing teeth with dental implants can be a big undertaking, but for many patients, the benefits are well worth the added time and effort associated with this complex treatment plan. Some of the many benefits of dental implant supported tooth replacement include the following:
Longevity – traditional crowns, bridges, and dentures need to be replaced frequently, usually every five to ten years to ensure proper function, but an implant supported restoration will last for decades with proper care. Many people maintain their implant supported restoration for the rest of their lives.
Stability – especially for patients in need of a partial or full denture, implant posts deliver exceptional stability that is as close to nature as possible. The dental implant posts closely mimic the function of tooth roots, holding replacement teeth firmly in place.
Function – an implant supported restoration will work just like your healthy, natural smile, allowing you to eat all of your favorite foods without worrying about damaging a replacement tooth.
Oral health – because dental implants replace the tooth roots, they provide the necessary stimulus to maintain the optimal level of oral health. Because of their close to natural structure, it's easy to care for your new smile and maintain your oral health.
Indications for Dental Implants
During your tooth replacement consultation, we'll review your current condition and help you to find the best restoration plan. Depending on the number and location of missing teeth, we will recommend one of the following implant supported restoration options:
Missing One Tooth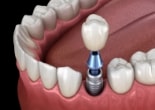 To replace one tooth, we will use one dental implant post to support a custom crafted dental crown.
Learn About Single Tooth Dental Implants
Missing Multiple Teeth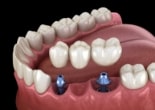 To replace two or more consecutive teeth, we will use two dental implants posts to support a fixed bridge restoration. To restore multiple consecutive and nonconsecutive teeth, we will use an implant retained partial denture. Depending on the size and shape of the partial, we may need to use anywhere from two to four dental implant posts.
Learn About Implant Supported Bridges
Missing All Teeth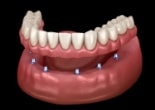 To replace one or both rows of teeth, we will use an implant supported full denture. In most cases, four to six strategically positioned dental implant posts are adequate to provide support for the denture.
Learn About All-on-4 Dental Implants
The Dental Implant Process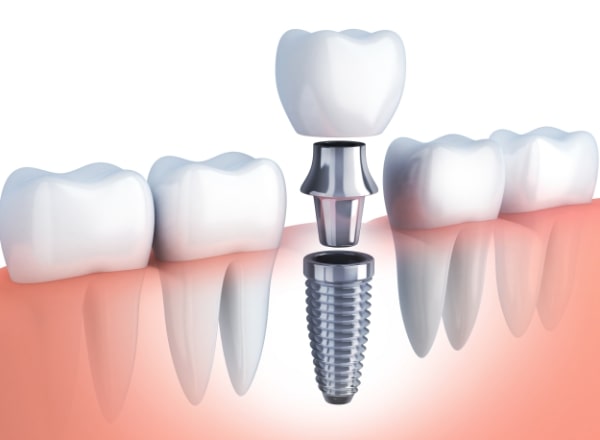 The implant procedure is completed over a period of months in two phases. In the first, an experienced oral surgeon places one or more titanium implant posts in the jaw. A single implant stabilizes one prosthetic tooth while multiple implants stabilize implant-supported partial or full dentures.
After the procedure, your mouth needs to heal. As this happens, your implant(s) form a natural bond with the jawbone, a process known as osseointegration. The osseointegration process creates a strong, natural foundation for your future prosthetic. Once the process is complete, your implant(s) function as a prosthetic root stabilizing the crown or denture and stimulating jawbone tissue density keeping it strong and healthy over the years.
In the second phase of treatment, our Phoenix team attaches the custom restoration. Whether you need a single replacement tooth, a partial, or a full denture, you can have a complete smile that restores your health, beauty, and functionality.
Understanding the Cost of Dental Implants
Every dental implant tooth replacement plan is different, and the cost of your treatment plan will vary dramatically depending on the number of missing teeth, materials used to craft the dental implant posts and replacement teeth, and other variables. For those patients who have dental insurance coverage, our team will do their utmost to maximize any available benefits. Most plans don't cover the cost of dental implant posts or their placement, but benefits are available for many other aspects of your treatment plan, and we can help you make the most of this coverage. When necessary, we also work with third party financiers to offer low and no interest payment plans.
Cost of Dental Implants
The cost of dental implants is different for everyone, so you might have trouble narrowing down a price estimate at first. Implant surgery can be as simple as replacing a single tooth or as complex as replacing multiple teeth at once, and some patients might even need to undergo additional procedures. As an experienced dentist in Phoenix, Dr. Jafari can help you navigate these variables and figure out an estimate that you can rely on. Get in touch with us today to schedule your first implant appointment and begin the process.
Types of Dental Implants
The first question we need to answer is perhaps the most basic one: "How many teeth are missing?" Implants can fill in gaps of any size in your mouth, but the approach that needs to be taken to make that happen varies. For example, a patient that had a single tooth extracted will only need a single implant as well as a crown. Multiple teeth could be replaced by individual implant posts, but if they were all in a row, you might only need two implants and a bridge. For extensive cases, you might receive dentures supported by four implants. As you can probably imagine, the price will be very different in each of these situations.
What are the Stages of Dental Implant Treatment?
When creating your estimate, we'll need to account for the different stages of the implant process; that includes the surgery as well as subsequent appointments to place abutments and your prosthetic teeth. There could also be additional steps depending on the state of your oral health. Specifically, if you ended up waiting a long time before pursuing dental implant surgery, your jaw may have started to break down; in such cases, you'll need a bone graft to restore the necessary bone height that was lost.
Are Dental Implants Worth the Investment?
Dental implants can last for many years – decades even – provided they receive the right care, which for the most part simply means brushing, flossing, and visiting our dental office every six months for regular cleanings. Because of this, you'll rarely, if ever, need to replace your dental implant posts. In contrast, traditional dentures and bridges may need to be replaced every 10 to 15 years. In other words, even if implants are more costly than other options at first, over the long run they can very well end up being the more cost-effective option. In the meantime, you'll enjoy all the benefits of a new smile supported by strong, stable "roots."
Does My Dental Insurance Cover Dental Implants?
This can be a tricky question because every insurance carrier is different; some do indeed cover implants while other classify them as a cosmetic treatment (and thus won't offer any kind of coverage). Even if your policy adopts the latter approach, they might still be willing to help pay for related procedures. Review your personal policy carefully. We'll be more than happy to help you file a claim for any benefits that you are entitled to; we also work with 3rd party credit companies for patients without insurance. Finally, don't forget to ask about our $1995 dental implant special, which includes the implant along with an abutment and a crown.
How Do Dental Implants Work?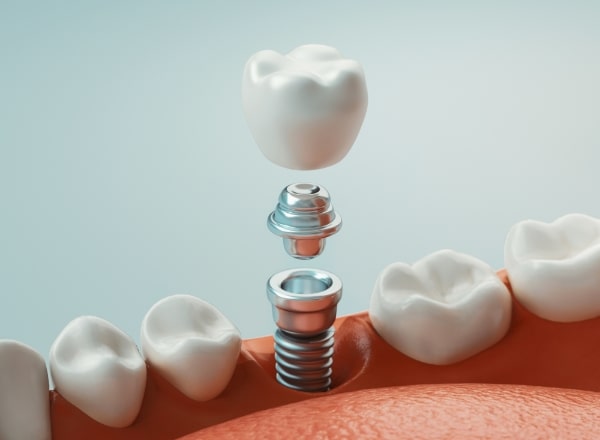 Dental implants are the only treatment to replace both the root and crown of a tooth. A titanium implant post is strategically inserted into your jawbone to serve as a new root. This stimulates your jaw to promote new growth, so your bone fuses around it. This gives your restoration the support it needs to stay securely in place. It will have the potential to last forever with the right care over the years. Dr. Jafari will explain the entire treatment process and what you can expect during your initial consultation.
What is a dental implant?
A dental implant in Phoenix is a preferred solution to treat tooth loss because it is unlike any other option. It's the only treatment to replace both the root and the crown of the tooth using a unique process. Although it may take longer than traditional methods, it's time well-spent to enjoy a close replica of your natural teeth. It will require a multi-phased treatment, but don't worry. Dr. Jafari will take the time to explain each step of your treatment and how dental implants work during your consultation.
What are dental implants made of?
A dental implant is commonly made from titanium. It's strategically placed into your jawbone to act as a new root. An abutment connects a custom-crafted crown to mimic your lost tooth. Together, these components give you a treatment that has over a 95% success rate to last for several decades. To ensure your new smile has everything it needs to thrive, the process consists of multiple phases.
Initial Consultation
The long-term success of a dental implant relies on the right foundation and remaining infection-free. You will need an initial consultation with your dentist in Phoenix to ensure it's the right treatment for you. Besides a visual examination, digital images and a CT scan are taken to fully assess your oral health and structures. Dr. Jafari may find you need additional procedures before your placement surgery, such as periodontal therapy, tooth extractions, bone grafting, or a sinus lift.
Dental Implant Placement
After you've healed from any additional procedures, you're scheduled for your placement surgery. Sedation or anesthesia is used to ensure your comfort as your gum tissue is opened to give access to your jawbone. A small hole is drilled into a pre-determined location to insert your implant post. Your gum tissue is sutured closed after the post is in place. Now, you'll spend the next several weeks healing as you undergo a process called osseointegration. This occurs as the implant post stimulates your jaw to encourage new bone growth, allowing the two to fuse to one another. Afterward, the post can potentially remain in place for your lifetime.
Abutments & Restorations
Once you're fully healed, you'll undergo the final steps to rebuild your smile. An abutment is connected to your implant post, which is a special fixture to secure your restoration. Your replacement tooth is carefully crafted to match the appearance of your remaining teeth to look natural. It is made from strong- durable material to give you lasting results.
Schedule Your Consultation!
If you're ready for a beautiful, functional smile, contact our dental office today to schedule your consultation.
Dental Implant Frequently Asked Questions
If you still have questions about dental implants and how they can benefit you, there's no need to worry. For your convenience, we've collected some of the most popular questions we get along with their answers below.
What are dental implants?
Dental implants are titanium posts that are surgically placed and fuse with your jaw to provide a stable and durable foundation for restorations such as dentures, crowns, or bridges to be placed on. They're the closest restorative procedure you can get to natural teeth and allow you to eat, smile, kiss, and talk with confidence! Unlike other restoration, dental implants don't just replace the biting surface of your teeth, but they also replace the roots. This stimulates your jawbone and oral tissues and promotes great oral health. It also makes your restorations easy to care for and long-lasting!
How do I know if I would be a good candidate for implants?
Dental implants in Phoenix are a great restorative solution for virtually every patient who suffers from tooth loss. Even if you don't have sufficient bone in the necessary areas, there are procedures like bone grafting that can help. If you have dentures already and are unhappy with them, dental implants are also a great replacement option that could eliminate any shifting or slipping. It's best to schedule a consultation with Dr. Sewright to determine if you are a good candidate for this procedure because there are certain situations that should be navigated with caution. During your visit, our team will create a personalized plan to put your oral health and wellbeing back into your own hands.
What could cause implant failure?
Dental implants boast a 95% success rate, but implant failure can still occur. Some common reasons that your implants may fail are infections like gum disease, medical conditions that impact your immune system and impede your ability to heal properly, or poor oral hygiene.
While your dental implants are durable and strong, it's important to keep in mind that they're not indestructible. The best way to combat implant failure is to follow your dentist in Phoenix's instructions after your surgery and let them know of any conditions that you may have during your consultation.
If I smoke, can I get dental implants?
Even if you smoke, you can still get dental implants. Just keep in mind that recent research has uncovered a connection between this oral habit and an increased risk of implant failure. Be sure to let your dentist know if you do use tobacco during your consultation. You can ask them how it will impact your restorations and about any concerns you may have.
Will my dental insurance cover dental implants?
Everyone's insurance benefits vary, but typically, most plans don't cover dental implants because they consider them a cosmetic procedure. If you're looking into getting implants, it's a good idea to check with your health insurance, because they may be able to help with some of the surgical costs. Before you schedule your consultation, it's best to contact your providers and see if they cover any of the costs.