Restorative Dentistry with Dental Implants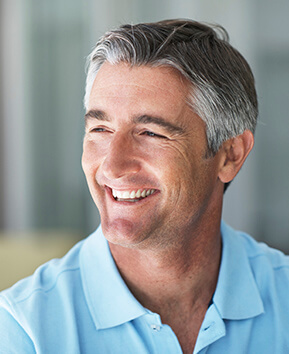 If you need to replace one or more teeth, Bell Road Dental Care has a great solution. With dental implants, you can have a fully restored smile that looks beautiful and functions just like your natural smile. This service is versatile enough to be used by patients who need to replace a single tooth, patients who need to replace a few teeth, and even those who need to replace a full row of teeth.
Creating Beautiful Smiles in Two Phases
The implant procedure is completed over a period of months in two phases. In the first, an experienced oral surgeon places one or more titanium implant posts in the jaw. A single implant stabilizes one prosthetic tooth while multiple implants stabilize implant-supported partial or full dentures.
After the procedure, your mouth needs to heal. As this happens, your implant(s) form a natural bond with the jawbone, a process known as osseointegration. The osseointegration process creates a strong, natural foundation for your future prosthetic. Once the process is complete, your implant(s) function as a prosthetic root stabilizing the crown or denture, and stimulating jawbone tissue density keeping it strong and healthy over the years.
In the second phase of treatment, our Phoenix team attaches the custom restoration. Whether you need a single replacement tooth, a partial, or a full denture, you can have a complete smile that restores your health, beauty, and functionality.
Are Dental Implants Right for Me?
Are you unhappy with your current denture, or have you recently lost one of your teeth due to an accident or poor oral health? Dr. Sewright would be happy to assess your needs and help you determine the treatment option that's right for you. Contact our Phoenix dental office today to reserve your visit. With a visual exam and X-rays, we gain a full understanding of your situation and propose a personalized plan to reclaim your good oral health and wellbeing.