Cosmetic Dentist - Phoenix, AZ
Cosmetic Dental Care for Phoenix and All Surrounding Areas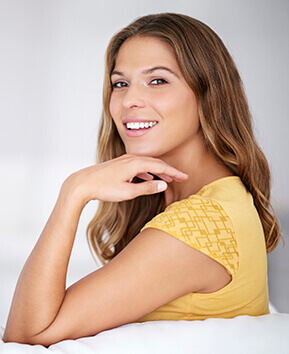 How would your life change if you had whiter or straighter teeth? At Bell Road Dental Care, that's a question we love helping people answer. With our comprehensive cosmetic services, we're equipped to make your dream smile a reality.
During a consultation at our Phoenix dental office, we assess your needs and talk about personal smile goals. When it comes to cosmetic dentistry, our priority is creating beautiful results that reflect your personality. Call our office today to schedule your cosmetic consultation.
Our cosmetic services include:
At-Home Whitening
While there are many over-the-counter products that promise powerful whitening results, the truth is only a professional whitening system really offers what you're looking for. At Bell Road Dental Care, we offer at-home whitening to boost your smile and confidence in the comfort of your own home. With just a few treatments, you'll see results that dramatically improve the appearance of your teeth.
Tooth-Colored Fillings
For a long time, metal fillings were the standard solution for patients with cavities. That's no longer the case. Tooth-colored fillings replaced metal fillings as the standard for care because of the natural appearance and because they bond more firmly with teeth. As a result, tooth-colored fillings are considered to be a more conservative choice than metal fillings.
Porcelain Veneers
If you're looking for a service to achieve comprehensive results in just two visits, let us talk to you about porcelain veneers. Porcelain veneers transform smiles by improving the appearance of cracked, chipped, stained, or misaligned teeth. Made from durable, high-quality porcelain, veneers are permanently placed over front teeth in just two appointments creating a flawless looking smile.
All-Ceramic Restorations
If you want a durable restoration that also looks like a natural part of your smile, let us talk to you about the benefits of all-ceramic restorations. Not only are all-ceramic restorations strong enough to ensure improved functionality, they also look natural enough to blend in with your smile. With our CEREC milling unit, we're happy to create your restoration in one visit to our practice.
Cosmetic Dentistry FAQs
If you are considering cosmetic dentistry, congratulations! There is certainly something to be said for wanting a smile that will give you greater confidence and the opportunity to embrace opportunities you never thought possible. No matter if you choose veneers, teeth whitening, tooth-colored fillings, or all-ceramic restorations, you can trust that your results will leave a lasting impression. But before you move forward with your treatment plan, your cosmetic dentist in Phoenix has compiled some common questions about cosmetic dentistry asked by our patients. Should you have questions or concerns about a particular service, please don't hesitate to contact our office for further information.
Can I expect cosmetic dentistry to do more than improve my appearance?
Absolutely! Cosmetic dentistry is designed to focus on the aesthetics of your smile; however, by addressing common problems such as chips, cracks, stains, gaps, or even, misalignment, you can lower your risk for many dental concerns. Tooth decay, gum disease, and even orthodontic problems can be mitigated by choosing to move forward with one or more cosmetic solutions. Not to mention, you'll achieve greater confidence in the way you look, allowing you to embrace a better quality of life.
Can my teenager receive cosmetic treatment?
At Bell Road Dental Care, our team of experts tends to reserve cosmetic dentistry for those whose teeth and bite are permanently set. Depending on their age, teenagers are still watching their smiles grow and develop. However, there are certain services that can be provided should a situation arise. At-home teeth whitening, tooth-colored fillings, and all-ceramic restorations are possible solutions for self-conscious teens. Veneers are not a wise decision because of their permanency. Ultimately, it will be up to our team to determine if your teenager qualifies for treatment, so you'll need to schedule a consultation first.
Why is it important to see a cosmetic dentist?
While it is true that many dentists offer cosmetic services, it is best to see a cosmetic dentist because of the additional experience and training they have as it pertains to certain treatments. Dr. Sewright's special interests include family and cosmetic dentistry, specifically teeth whitening. Dr. Jafari is an active member of the American Association of Cosmetic Dentistry, making him a qualified professional to perform all types of cosmetic services at Bell Road Dental Care.
How can I make my results last longer?
Most cosmetic dental services do not last forever, which means you will need to be proactive about your oral health and work to maintain your results to ensure they last as long as possible. To do this, you can:
Maintain good oral hygiene by brushing twice daily for two minutes with fluoride toothpaste, floss daily, and rinse with an antimicrobial mouthwash.
Keep your regular dental checkups and cleanings with your dentist in Phoenix at Bell Road Dental Care to ensure your restorations or cosmetic treatment is looking good.
Avoid hard, crunchy foods to prevent damage to your veneers or stains from forming on your newly whitened teeth.
Never use your teeth as tools, as this can damage not only your treated teeth but your regular ones as well.
Stop smoking if you want to prevent stains and discoloration from developing again.
Ask about customized mouthguards to better protect your teeth and soft tissues from injury while playing sports or if you are prone to teeth grinding