All-On-4 Dental Implants - North Phoenix, AZ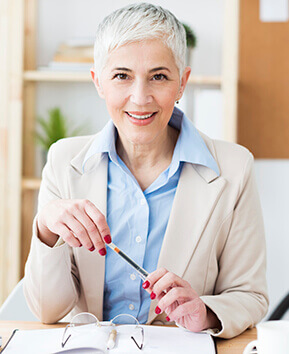 In addition to offering restorative care with traditional dental implants, Dr. Sewright also offers All-on-4® implants. Unlike traditional implants which take several months to complete, treatment with All-on-4® implants can be completed in a single appointment.
What Makes All-on-4® Implants Different?
The All-on-4® process was developed by Nobel Biocare and uses four small metal implants to stabilize a full upper or lower denture. All four implants are placed during one visit, and a temporary denture is attached. Eventually, you receive a permanent, custom-made denture to replace the temporary, but the temporary is durable and natural allowing you to enjoy a stronger, healthier, and more beautiful smile.
Not a Candidate for Traditional Implants? Maybe All-on-4® Implants Are Right for You!
For some patients, traditional dental implants aren't a viable option. This can be bad news for someone who has traditional dentures and isn't happy with them. The good news is many patients who aren't candidates for traditional implants may be qualified for treatment with All-on-4® implants.
One reason for this is that All-on-4® implants don't require as much bone as traditional implants. In many cases, a lack of adequate bone tissue is the reason implants aren't a viable treatment option. All-on-4® implants enable more patients to achieve beautiful, natural-looking results. If you need restorative help, let us talk to you about dental implants.