Invisalign – Phoenix, AZ
The Clear Alternative to Brackets and Wires
The vast majority of the population needs orthodontic treatment to achieve a straight smile and aligned bite. And, thankfully, people today have more options than ever before. Invisalign in Phoenix is a fantastic alternative to metal brackets and wires that gives you great results, comfortably and discreetly. If you want to straighten your teeth the invisible way, don't hesitate to schedule a consultation to discuss Invisalign in our Phoenix, AZ dental office with one of our talented dentists at Bell Road Dental Care of Phoenix, Dr. Doug Sewright and Dr. Reza Jafari!
Why Choose Bell Road Dental Care of Phoenix for Invisalign?
Privately Owned Dental Office Trusted by Phoenix Families
Up to Date with the Latest Dental Technology
Gentle, Compassionate Dentist and Team
How Does Invisalign Work?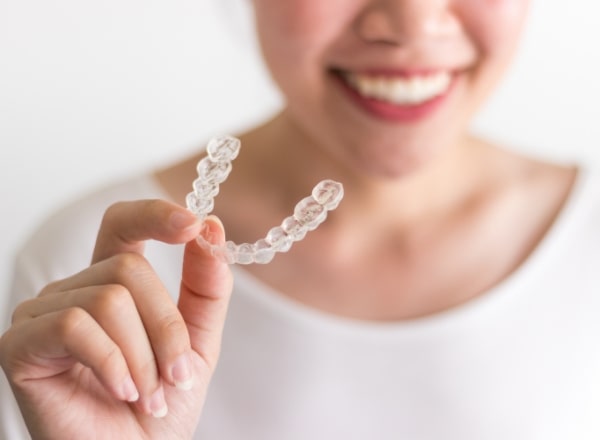 After we've determined that Invisalign is right for you, we'll start by taking images and digital impressions. This allows us to determine the total number of aligner sets you need and how long your treatment will take. We can also show you a virtual image of your results before you start treatment.
Here's how the process works:
First, we'll send the images and impressions we took to the Invisalign lab to custom-make your aligners. In most cases, they'll send them back to our dental office in about three weeks.
Then, when you come in to pick up your first set of trays, we'll put small, tooth-colored "attachments" on your teeth to anchor your trays and help them sit firmly on your teeth.
Next, you'll get your first pair of aligners. We'll give you instructions for how to wear and maintain them and also answer any questions you have.
Finally, you'll walk out of our dental office wearing your first set of trays, which you'll wear for at least 22 hours per day. Then you'll move to your next set about every two weeks until you get your final result.
What are the Benefits of Invisalign?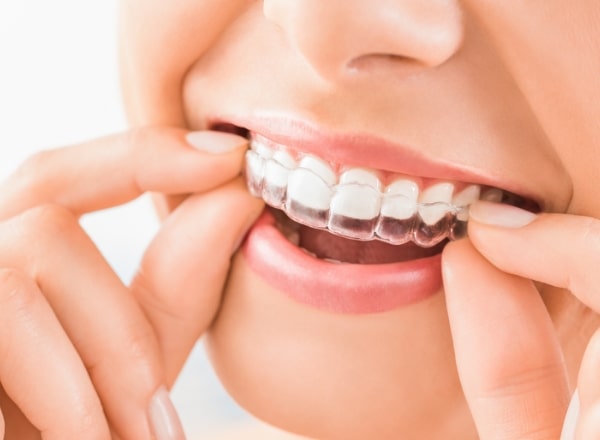 As a cosmetic dentist in Phoenix, our patients love that Invisalign is practically invisible. But the benefits don't end there:
Convenience – Invisalign fits your lifestyle. Although it's important to wear your trays for 22 hours per day, you can always remove them for special events such as first dates or job interviews.
Comfort – Metal brackets and wires can irritate your lips and cheeks. Invisalign aligner trays are smooth and comfortable.
Works for many different issues - Invisalign works for a wide variety of bite alignment problems, including crowding, gaps, overbites, underbites, and more.
Better oral hygiene – Cleaning around traditional braces is difficult, which increases the risk of cavities and gum problems. Since you'll remove your trays before brushing and flossing, it's much easier to maintain good oral hygiene.
How Long Does Invisalign Treatment Take?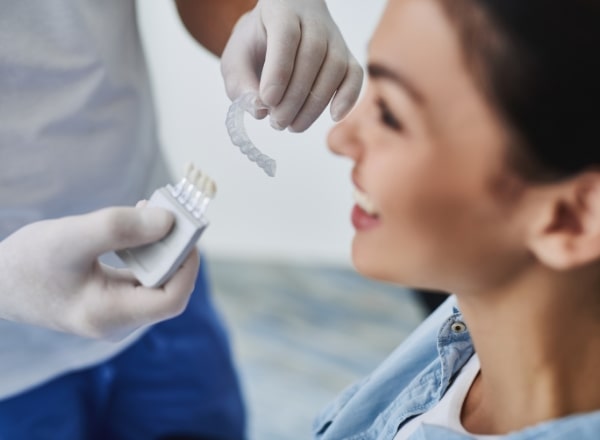 Another advantage that our patients appreciate is that Invisalign treatment is usually faster than traditional braces. In fact, most people get their results in is just 9-18 months, whereas the average for metal braces is 12-24 months.
How Much Does Invisalign Cost?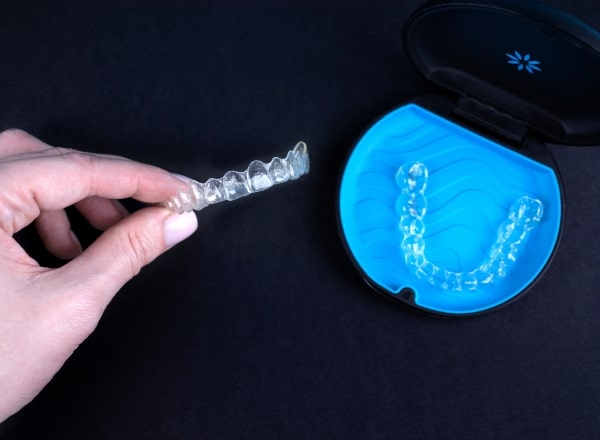 Every case is different, so the cost of Invisalign will vary depending on how severe your bite issues are and how many sets of trays you need. The best way to get a more specific idea is to schedule a consultation with one of our cosmetic dentists at Bell Road Dental Care of Phoenix. During your consultation, we'll discuss your treatment time and cost and also review what you can expect from Invisalign in detail. And, since some insurance plans cover Invisalign treatment, we can help you review your plan benefits as well. It's hard to put a value on the importance of a healthy, beautiful smile. Simply put, straightening your teeth with Invisalign is an investment that will pay off for a lifetime. If you'd like to know more about how Invisalign could benefit you, give us a call today!
Invisalign Frequently Asked Questions
If you're still curious about Invisalign, you're in the right place. Please feel free to contact us and request an appointment to speak with one of our friendly team members with any specific concerns. However, we also know you may like doing your own research, which is why we've included the answers to some of the most frequently asked questions about Invisalign in Phoenix below. Enjoy!
Is Invisalign Painful?
When you first get Invisalign, there is a slight adjustment period as you get used to your treatment. After wearing your aligners for a week or two, they'll feel completely comfortable. There may be some slight soreness once you start the next aligner in the series, but this is completely normal. One of the benefits of Invisalign is that it's designed with smooth plastic, which eliminates the possibility of metal brackets and wires catching or cutting the inside of your mouth.
How Do I Remove My Aligners Easily?
In general, the best way to take out your aligning trays is to grab the back edge of one side and pop it loose. Once this small area is loose, it's pretty easy to take your Invisalign out for brushing or eating. If you have longer fingernails, you can use them to try to hook the edge of your Invisalign. There are also special products made that can help you remove your aligners.
How Do I Care for My Invisalign?
One of the benefits of Invisalign is its clear appearance, however the aligners can quickly become yellowed or stained without proper maintenance. It's vital to be sure you're brushing your teeth after you've eaten, and before putting your aligners back in so no food debris or bacteria get trapped in between. You should also use Invisalign's cleaning system, or simply a nonabrasive toothbrush, clear hand soap, and room temperature water. Avoid hot water because it could permanently warp the plastic.
What Should I Do if I Lose or Break an Aligner?
You can do your best to prevent damaging your Invisalign by laying down towels on the sink and/or floor during cleaning. That way, if you drop your aligners, they'll have something soft to break their fall. However, breaking or losing your aligners is a common issue that can occur during a treatment that takes multiple months, and sometimes over a year to complete. If this happens, contact our dental office immediately for your next steps. One of our dentists may recommend that you wear the previous aligners in the series until we can give you a replacement.
What Happens After Invisalign is Over?
Once you complete your Invisalign treatment, there is still one more important step to take. In order to maintain the beautiful, straight results you've achieved with clear aligners, we'll give you a retainer with specific instructions for wearing. Over time, you'll be able to switch to wearing it only at night, following by just a few nights a week if all goes as planned. Remember, this part of your treatment is incredibly important because it protects the investment that you've made in your smile.