Trusted Dentist – Phoenix, AZ
Get to Know Reema Patel, DMD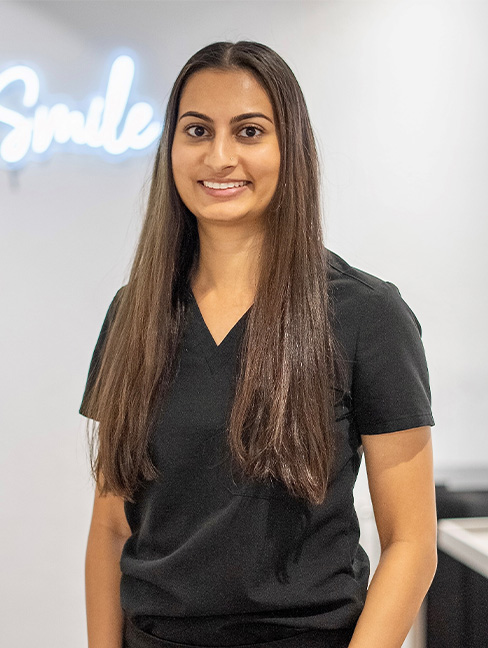 Dr. Patel simply remembers always having a deep interest in helping people. Fortunately, due to her passion and mission to create positive change in the lives of others, dentistry is the path she inevitably chose, and she's never looked back. She looks forward to creating strong and trusting relationships with her patients while providing the highest-quality dental care they deserve.
Why Did You Decide to Become a Dentist?
Ever since she was a little girl, Dr. Patel has had a love for science and art. Once she reached college, she realized how dentistry would allow her the opportunity to combine both passions, using both artistry and technical skills to completely transform others' smiles. Today, she finds it incredibly rewarding to help her patients regain their confidence in their pearly whites, alleviate their discomfort, and enhance their overall quality of life!
Where Did You Study Dentistry?
To begin her career, Dr. Patel first attended the University of Arizona for her undergraduate degree. She later went on to study at Midwestern University in Glendale to earn her Master's degree in Biomedical Research as well as her Doctor of Dental Medicine degree. She has a deep interest in furthering her expertise through continuing education and remaining up-to-date with the latest advancements in dentistry, as she's a proud and active member of the Arizona Dental Association and the American Dental Association.
Outside of the Dental Office, What Do You Like to Do?
Whenever she isn't at the office treating and improving smiles, Dr. Patel loves being with her family as much as possible. She also enjoys traveling and exploring new places, relaxing with her loved ones, and hanging out with her family dog, Chico. One interesting thing about her: she was born and raised in Glendale, Arizona, and she's never lived outside the state.