Meet Your Friendly Dental Team – Phoenix, AZ
A Compassionate, Helpful Staff
The dentists wouldn't be able to provide the care they do without a team just as passionate about dental care as them. The hygienists, assistants and administrative staff want to make every step of your dental appointment as comfortable and personalized as possible. By the end of your visit, you'll be hard-pressed to find a team as dedicated to productive dentistry and customer service. Learn a bit more about them by reviewing our team page below!
Suzanne, Receptionist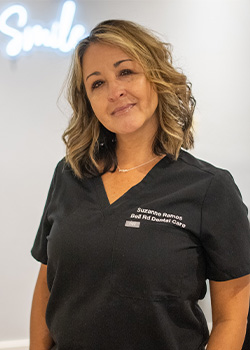 An Arizona native, Suzanne completed her studies at Pima Medical Institute. Now, she has more than 15 years of experience! When asked what she loves most about her job, she shared that it's interacting with our patients and seeing them smile at the end of their visit. She and her wonderful husband have been married for over 22 years now. Together, they have four amazing children (including their son-in-law). In her free time, she enjoys going to Sedona or traveling to California to visit family or Disneyland.
Kaya, Dental Assistant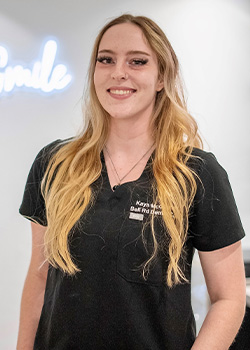 Kaya is originally from Clovis, California! She joined our team in 2020. So far, her favorite part of being a part of the Bell Road Dental Care of Phoenix family is her fellow team members and our amazing patients. In her spare time, she enjoys longboarding, backpacking, kayaking, playing video games, and going to music festivals. Here's an interesting fact about her: she enjoys pineapple on pizza!
AmyJo, Registered Dental Hygienist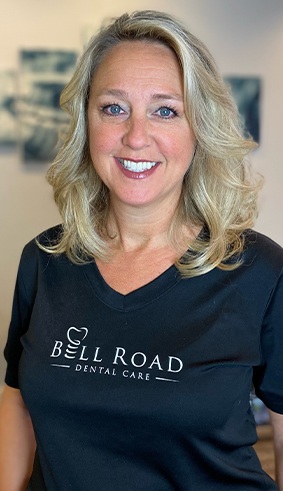 Although AmyJo is relatively new to our dental office, she has an impressive 15+ years of experience. Now, she loves coming into work each day to connect with patients on a personal level and help them achieve their ideal dental experience. An Arizona native, she completed her studies at the University of Arizona, Arizona State University, and Rio Salado College. As a result, she has her certifications in both lasers and anesthesia! In her free time, her favorite place to be is Lake Pleasant, which is where she enjoys boating, camping, and spending time with loved ones. Here's something you may not know about her: she loves animals and was a Veterinary Technician for 5 years.
Jerry, Registered Dental Hygienist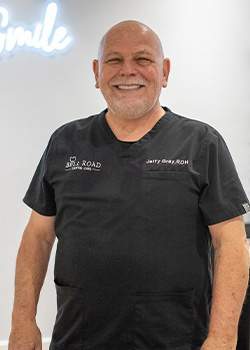 Jerry loves coming to work each day because he truly has a passion for educating his patients on how to improve their dental and medical health. He completed his studies at both Wayne Community College and North Carolina State University, and he is currently certified in local dental anesthesia and periodontal dental hygiene. Plus, he has an impressive 20+ years of experience under his belt! When he isn't at the dental office, he enjoys spending time with his family, rebuilding lamps and clocks, and being a premarital/marital coach with his wife.
Krystal, Dental Assistant
Originally from the Bronx, Krystal studied dental assisting at Carrington College. Today, what she loves most about her job is helping patients build confidence! Creating beautiful smiles and seeing the "before and after" transformations is always so rewarding. At home, she has three beautiful kids – two girls and a baby boy. In her spare time, she enjoys hanging out with family, bowling, hiking, swimming, and doing arts and crafts with her children.