Preventative Dentistry - North Phoenix, AZ
Keeping Your Smile Healthy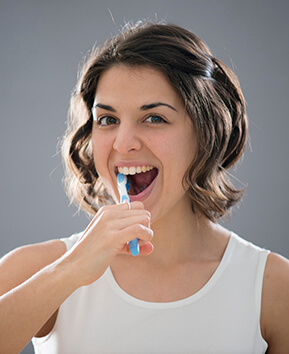 At Bell Road Dental Care, we emphasize preventive dentistry. With quality service, we not only help patients treat common dental problems, but also help prevent them in the first place. For optimal oral health, we recommend visiting our Phoenix dental office every six months for routine care. These visits are essential to maintain a smile that's free of harmful bacteria and plaque.
Call Bell Road Dental care today to reserve your next visit. Dr. Sewright is happy to serve patients from Phoenix and all surrounding communities.
Our preventive dental services include:
Dental Sealants
Tooth decay is one of the most common dental health problems and is caused by an accumulation of bacteria. Frequent brushing helps control bacteria, and a diet low in sugar and other carbohydrates limits the production of damaging bacteria in the first place.
Additional protection for your smile may be necessary. Our Phoenix dental office is proud to offer dental sealants. Dental sealants provide extra protection by putting a thin layer of plastic between harmful bacteria and the chewing surfaces of teeth. Placing dental sealants only takes a few minutes, but provides years of protection.
Oral Cancer Screenings
While most patients don't need to be seriously concerned about oral cancer, routine cancer screenings are still important for patients with none of the most obvious risk factors. With routine oral cancer screenings, we make patients aware of any developments that require extra attention. For too many, oral cancer diagnosis isn't made until the condition is already advanced. Successful treatment at this stage is difficult, but early diagnosis significantly raises the odds of making a full recovery.
Would you like to learn more about the importance of routine oral cancer screenings? Contact our office today with your questions or to schedule your next visit to our Phoenix dental practice.
We also offer:
Pediatric Dentistry
Emergency Dentistry
Nightguards
Custom-Made Sportsguards