Dental Crowns – Phoenix, AZ
An Effective Approach for Repairing Compromised Teeth
Whether you've recently damaged a tooth or have struggled with a compromised one for years, our team can offer dental crowns to repair your smile. Thanks to modern technology, we can reliably make blemishes vanish with these durable and natural-looking restorations. This treatment is completely personalized, so you can expect your results to blend flawlessly with the rest of your smile! Your brand-new tooth can even last 15 years or more with proper care and routine dental visits. Read on to learn more or give us a call today to schedule a consultation for dental crowns in Phoenix.
Why Choose Bell Road Dental Care of Phoenix for Dental Crowns?
Same-Day Crowns with Advanced CEREC System
Provides Outstanding & Honest Customer Service
Utilizes Modern Dental Technology & Techniques
What Is a Dental Crown?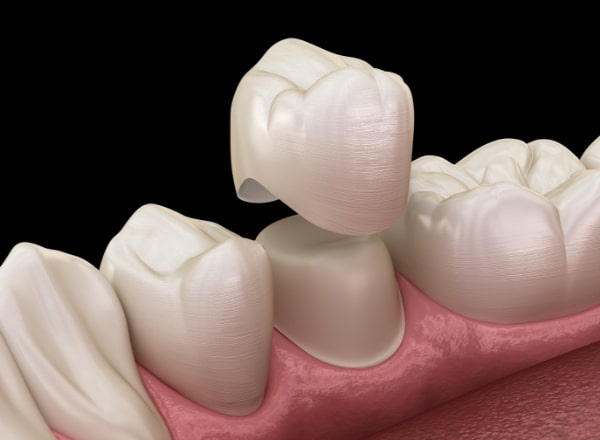 A dental crown is also referred to as a "cap," which is designed to fit comfortably (and snugly) over a tooth that is plagued by decay or damage. Oftentimes, when a cavity spreads beyond the initial enamel layer, the only way to treat the problem is with a dental crown. Patients who suffer from teeth that are broken or chipped, stained or discolored, or even misshapen can renew their smiles with the help of this restoration treatment as well. Dental crowns are also vital components to a person who recently underwent a root canal or dental implant placement.
Dental crowns can be crafted using a variety of materials, but many dentists are moving away from traditional amalgam. Instead, they're opting for more natural, lifelike solutions like ceramic and porcelain. These materials blend in with healthy remaining teeth much easier, as they effectively mimic natural tooth enamel.
The Dental Crown Process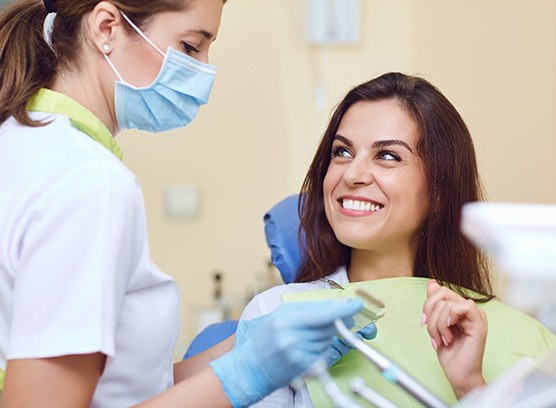 Though the creation and placement of a dental crown take great skill, the process itself is rather straightforward. After our team has performed an initial consultation and oral exam, we'll determine if this treatment is ideal for your specific situation. If it is, we'll begin working on repairing your tooth by removing any damaged or decayed tissue from your tooth. Once we've also shaved off a small amount of your enamel to make room for your restoration, we'll take impressions of the area for fabrication.
For traditional dental crowns, your team will send the impressions to a dental lab for them to construct your new tooth. You'll typically have to wear a provisional one for protection. After we receive your final restoration from the lab, you'll come back into our office so we can switch out the temporary one for the permanent one. This process can usually take a week or two to complete. Fortunately, our team offers CEREC same-day crowns, which can be fabricated in-office and placed during the very same appointment!
The Benefits of Getting a Dental Crown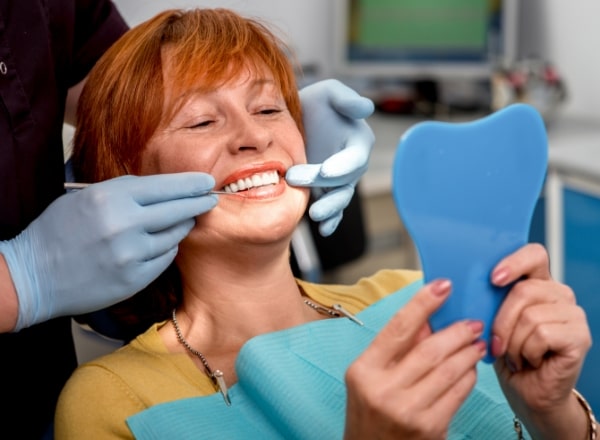 Dental crowns have been used to help repair and renew countless smiles over the years. They offer patients a wide range of advantages, including:
Lowered risk of dental health issues in the future.
Improved/restored biting power.
Completely customized dental material.
Durable and natural-looking restoration.
Results can last 15 years or more with proper care.