Dental Implant-Retained Bridges – Phoenix, AZ
Seamless Multi-Tooth Replacement
Are you missing multiple teeth? You may find the gaps in your smile to be embarrassing, but lost teeth do much more than make an impact on your appearance. Those empty spaces can also make it difficult for you to properly chew food. Your jawbone will even deteriorate over time. What is the best way to address such issues and regain a complete, healthy, and confident smile? Dental implant-retained bridges from our Phoenix, AZ dentist may be perfect for you.
Why Choose Bell Road Dental Care of Phoenix for Dental Implant-Retained Bridges?
Welcoming, Comfortable Dental Office
Caring and Compassionate Dentist and Team
Advanced Technology for Placing Dental Implants In-House
Two Consecutive Missing Teeth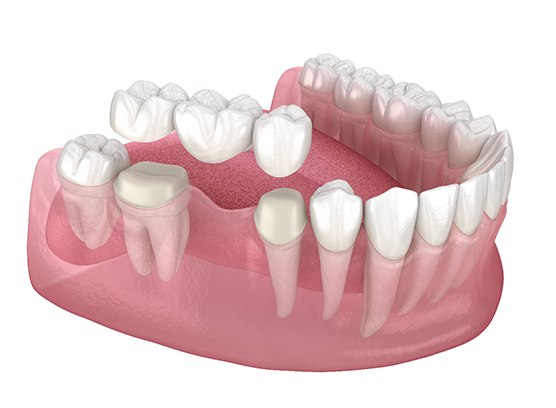 If you have two missing teeth in a row, Dr. Jafari, a skilled implant dentist in Phoenix, may be able to replace both of them with just a single dental implant. The implant will support a crown, and the crown will be attached to a pontic (artificial tooth) that will finish filling in the gap in your smile. You can think of this type of restoration as a sort of "two for one special."
Three or More Consecutive Missing Teeth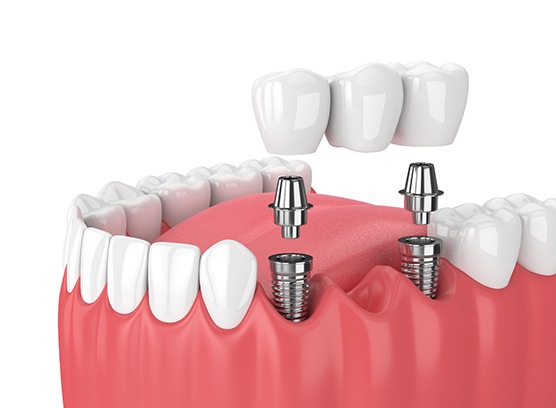 If you have three or more missing teeth in a row, your restoration may consist of a multi-unit bridge that is supported by dental implants in Phoenix on each end. For example, if you are missing three teeth, you will have an implant and a crown on each end of the empty space. The crowns will support a pontic between them. If you are missing four teeth, there will be two pontics between the crowns. This type of implant-retained bridge may be able to replace up to five consecutive teeth.
Multiple Missing Teeth Throughout an Arch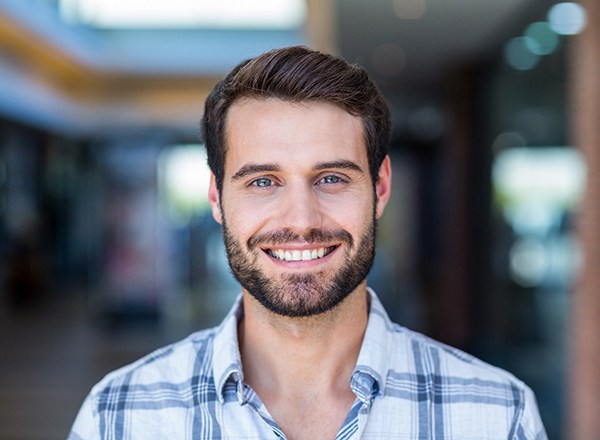 In the above sections, we discussed how our team can replace consecutive missing teeth, but what if your missing teeth are not consecutive? You have a few options for tooth replacement, one of which is an implant-retained partial denture. Just a few dental implants may be necessary to support this type of prosthetic, which will be like a puzzle piece that will fit in perfectly around your remaining natural teeth. If an implant-retained partial denture is not right for you, we may discuss other dental implant solutions that can fully restore your smile.
Benefits of Dental Implant-Retained Bridges or Partial Dentures

When a dental bridge or partial denture is supported by dental implants, you can expect to experience the following benefits:
A strong bite that can stand up to practically any food
A natural-looking smile
Confidence that your prosthetic will never slip out of place while you are eating or speaking
A strong and healthy jawbone that helps your face retain a youthful appearance
A prosthetic that stands the test of time (dental implants have the potential to last a lifetime)
No need to worry about the health of your remaining natural teeth (placing dental implants typically does not require that the nearby natural teeth be modified or extracted)
Are you ready to find out what dental implants can do for you? Contact us to schedule a consultation in our state-of-the-art facility. We offer a full range of dental implant services, including advanced procedures that most dental offices are not able to provide. We look forward to helping you fall in love with your smile!