Teeth cleanings - Phoenix, AZ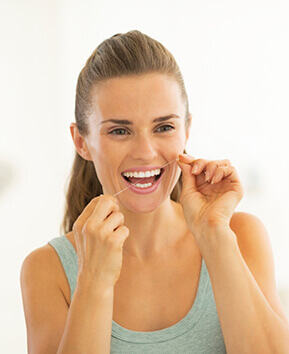 Daily brushing and flossing are essential for anyone to enjoy good oral health, but it takes more than just good home hygiene. Routine dental cleanings and exams are equally important.
At Bell Road Dental Care, we recommend visiting our office at least twice a year for checkups and cleanings. Why so often? Providing truly preventive care depends on early diagnosis. With appointments spaced six months apart, we identify problems while they're developing. As a result, we prevent small concerns from becoming more serious problems.
Your visit begins with a thorough cleaning from one of our hygienists. During your teeth cleaning, hygienists use specialized tools to clean the entire smile, including parts that are difficult to clean with just a toothbrush or floss. Afterward, Dr. Sewright completes a thorough oral exam to assess health needs. As part of this process, we may collect digital X-rays. Often, X-rays enable us to see things it wouldn't be possible to see with just a visual exam.
Following your exam, we discuss findings and recommend additional care. Because we're committed to personalized care, we recommend services that are right for your unique smile. If you have questions about recommendations, don't hesitate to let us know. We want patients to understand the plan we recommend.