Emergency Dentist – Phoenix, AZ
Relieving Pain and Restoring Smiles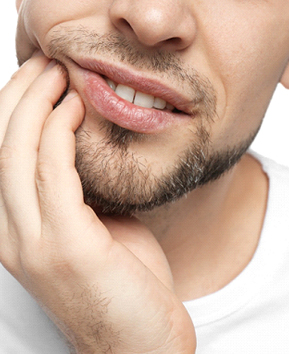 Dental emergencies can turn a fun day into a traumatic event but knowing what to do next could save your smile! At Bell Road Dental Care, we have an experienced emergency dentist in North Phoenix who can relieve your pain as quickly as possible. We even offer advanced technologies like CEREC same-day crowns to give our patients quick restorations right when they need one. Read on to learn about some of the most common dental emergencies and how we can help.
How to Handle Common Dental Emergencies
When an emergency occurs, it typically falls into these two categories: infection or abscess from poor oral hygiene or sudden dental injury. Our friendly and experienced team is ready to relieve your pain and keep you comfortable in both situations. Until you're able to come into our office, use these tips on handling some of the most common dental emergencies.
Toothaches
Toothaches can happen out of nowhere, causing great pain. First, try flossing around the area to remove any lingering food debris. If your pain persists, call our office right away because you could have an infection. The most common treatment for this issue is a root canal to remove any infected tissue, which prevents even more serious health issues and protects your teeth in the future.
Chipped/Broken Tooth
If you have a chipped or broken tooth, pick up the pieces and rinse them because we may be able to repair it. If there is bleeding, use gauze, and you can also use a cold compress to ease swelling. After you've made yourself more comfortable, contact our office for immediate treatment. In some cases, we can save your tooth, but if your tooth is too damaged, our only option may be to completely extract it to relive your pain.
Knocked-Out Tooth
If your tooth gets knocked-out, try rinsing it carefully, putting it back in your socket after. If this isn't possible, store your tooth in milk or water to keep it moist until you can get to our office. If there's bleeding, use gauze to stop it and a cold compress to help with swelling. The sooner that you can get to our office, the higher your chances are of your tooth being successfully replanted by your dentist in North Phoenix.
Lost Filling/Crown
Fillings and crowns protect parts of your dental structure that have already been damaged or decayed, which is why it can be painful when you lose one. If this occurs, you can seal your tooth with dental cement found at your local drugstore. This will temporarily protect it and also minimize your sensitivity. After, visit our office for a proper dental restoration.
How to Prevent Dental Emergencies
Unfortunately, dental emergencies can never be prevented completely, but there are some ways that you can minimize your chances of disaster occurring:
Maintain a good daily brushing and flossing routine to keep your teeth healthy.
Use fluoridated toothpaste to strengthen your tooth enamel.
Visit our office at least twice a year for routine checkups and cleanings.
Avoid using your teeth for anything other than chewing and speaking.
Avoid biting down on hard items like ice cubes or nutshells.
Avoid routinely smoking, using tobacco products, or heavily consuming alcohol.
The Cost of Treating Dental Emergencies
The price of your dental emergency can range because of the various types of treatments that you may need. It's hard to estimate the cost of your treatment because different emergencies require different dental services. For example, some toothaches can be remedied by simply taking antibiotics, whereas a cracked or damaged tooth may require more extensive dental restoration. At Bell Road Dental Care, our friendly team will make sure that you can receive quality treatment that is also affordable.